1967 Chevy II Hardtop Door Shell Driver side Original GM VERY VERY SOLID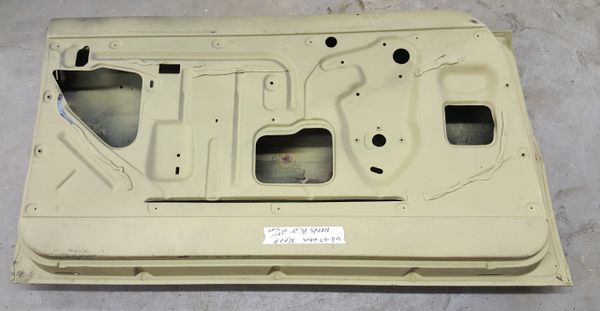 1967 Chevy II Hardtop Door Shell Driver side Original GM VERY VERY SOLID
Very clean door, 2 small dings that someone filled. The face was stripped, and back side sealed. We dont know who or when or what was used on the door. The last pictuer is of the inside facing down. This was a body side molding door.
This will be shipped by UPS Ground and $45.00 in packing material will be used.
We stock over 27,000 New & Used Parts
MIDWEST NOVA KINGS
Any questions call or text 224-225-9450.
Store Hours Monday - Friday 9:00-6:00 Central time
After hours and Saturday - Sunday On call phone staff. So call anytime.
We Ship same day - We ship same day - We ship same day
$$$ Shipping Discounts $$$
We offer Cheaper shipping on larger items, sometime up to 50% Cheaper to the following states. IA,IL,MN,ND,NE,SD, WI
Must Contact before buying for info on shipping discounts. Otherwise it will be shipped same day per listing shipping agreements.
Customer Service IMPORTANT, PLEASE READ!!! All sales are final. No refunds will be made. All items sold "as is". Shipping and handling are not refundable. All items shipped have been inspected to avoid any flaw. Please read our shipping and return policies below. The buyer agrees to comply with all applicable laws and regulations of the various states of the United States. Your satisfaction is our goal; we stand behind all the products that we sell. Please make sure that the part you ordered fits before cutting, painting, altering or final installation. Altered items and custom orders are not refundable or returnable. Please inspect the parts immediately after receiving your order. Warranties: Installation by a professional is recommended in order to avoid damage to the product. • Our liability under no circumstances shall exceed the amount of the original sale. • Our liability under no circumstances shall cover failure due to abuse, misuse, improper repairs or maintenance, installation, alteration or modifications. • Our liability under no circumstances shall cover cost of installation, removal, normal wear and tear, and consequential or subsequent damages.. Problems with an order? If something is wrong with an order, we certainly do want to help you. Please read the following for more information on how to proceed. If you would like to find out the status of your order you may call Customer Service at 1-224-225-9450 to obtain order status. Shipping Problems: Please inspect your package immediately prior to accepting delivery. Damages and evidence of tampering on the outer packaging must be noted on the delivery receipt of the driver. Shipping Damage: Damages must be reported and filed with carrier immediately. Orders lost in transit must be reported to us immediately. We are not liable for carrier damages. A claim must be filed with Carrier Company to facilitate an exchange. If you received a damaged product, please report it to us within 48 hours from date of receipt. No exceptions. Missing Item/s: Must be reported within 3 business days from date of receipt. No Exceptions. Wrong Items: If you received a wrong item, this should be reported within 3 business days from date of receipt. We shall provide you with a mailing label to ship back the wrong part. The replacement will only be sent once the wrong item has been received and confirmed by us. Altered items and custom orders are not refundable or returnable. No exceptions. Our Customer Service Department can be reached at 1-224-225-9450. Back to Top